Cherokee County Housing
Market Statistics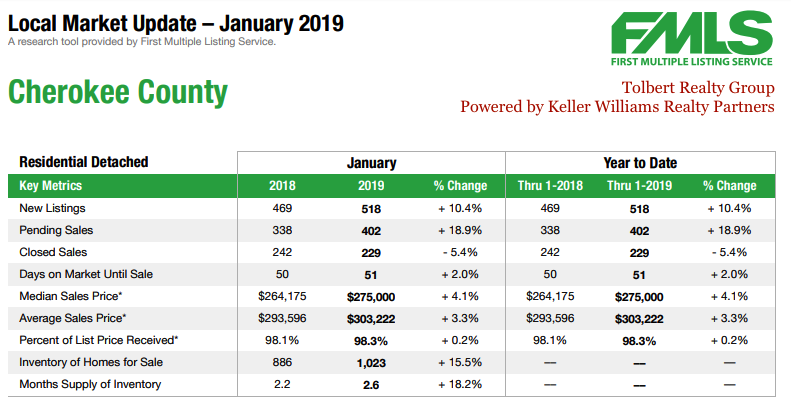 Inventory of homes for sale in Cherokee County grew by 15.5% in January compared to the previous year. Inventory in January 2019 totaled 1,023 units, up from 886 in 2018. Among existing homes, 229 units sold in January, a decrease of 5.4% from 242 units that sold in 2018. The average sale price of sold homes was $303,222. This represents an increase of 3.3% from the January 2018 average price of $293,596. At the current rate of sales, this figure represents just 2.6 months' supply of homes on the market. A balanced market will have a 5-6 months' supply of homes available on the market.
New Listings increased 10.4 percent for Detached homes and 26.9 percent for Attached homes.Pending Sales increased 18.9 percent for Detached homes but decreased 10.9percent for Attached homes. Inventory increased 15.5 percent for Detached homes and 71.9 percent for Attached homes. A total of 402 contracts for sale were written in January 2019, up from 338 in January 2018. This is an increase of 18.9%. Contracts written during the month reflect, in part, sales that will close in the near future.
While the home affordability topic will continue to set the tone for the 2019 housing market, early signs point to an improving inventory situation, including in several markets that are beginning to show regular year-over-year percentage increases.As motivated sellers attempt to get a jump on annual goals, many new listings enter the market immediately after the turn of a calendar year. If home price appreciation falls more in line with wage growth, and rates can hold firm, consumer confidence and affordability are likely to improve.
For your personalized market report, send me an email with your city / zip code / neighborhood.